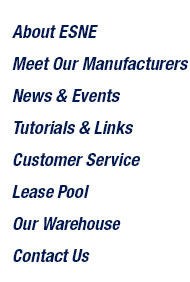 Heard the Latest?
Training/Demonstrations | Trade Shows/Workshops
ESNE News & Information | News from our Principals
Last update April 27, 2016

Electronic Sales of New England is in constant communication with their principals and the industry as a whole, as such, we would like to pass along information that may be of interest to you. We will update this area regularly, so please visit often.
Upcoming Product Training / Demonstrations:
ESNE is in the process of organizing new trainings and demonstrations. We will post this info as soon as it is available. If you are interested in a specific product, please contact us with your input and we will do our best to accomodate you.
SONARWIZ BATHY WEBINAR
April 27, 2016 - 9:30 AM PST


GEOHAB 2016
May 2-6, 2016 Winchester, UK
Our chief scientist, David Finlayson, has been accepted once again to present his abstract: The future of sidescan sonar for marine geological and biological habitat characterization.


2016 CANADIAN HYDROGRAPHIC CONFERENCE
May 16-19, 2016 Halifax, Nova Scotia, Canada
Damon Wolfe will be demoing SonarWiz on the water.


TECHNO OCEAN 2016 - BOOTH L
October 6-8, 2016 Kobe, Japan


SONARWIZ ANNUAL TRAINING WORKSHOP
December 6-8, 2016 Seattle, Washington USA
We'll be covering post-processing for sidescan, sub-bottom, bathymetry and magnetometer data, as well as data acquisition on the water.


---
---
ESNE's Trade Show / Workshop Schedule:
Please check back for upcoming trade shows and workshops.
---
News and Information from our Principals:
SonarWiz Quarterly Highlights (November 2, 2015) (download PDF)
SonarWiz Adds Sophisticated CUBE Grinding Engine to Industry-Leading Software (October 21, 2015) (download PDF)
Chesapeake Technology Now Offers a 24-bit Sub-Bottom Sonar Wiz Interface (download PDF)
---
---
---
EIVA launches ROTV solution dedicated to magnetometer surveys (download PDF)
---
EPC's irrepressible monthly newsletter (click here...)
EPC and ESNE demo EPC's new MP-1086 Recorder for Ocean Survey, Inc. (more...)
EPC Announces their new 1086NT (more...)
---
---
---
News from Hardigg (click here...)
Hardigg Announces the availability of their Quick Ship products on the GSA Ecommerce online shopping area (click here...)
---
---
---
---
Magellan/Ashtech- Thales Navigation
---
---
---
---
Triton Elics International (TEI)
---
---
If you require further information, please contact us with your inquiry. We'll be happy to find out for you!