It's UPS...
It's Federal Express...
No - actually its Mark Warren loaded down with Hardigg Cases to service his customer.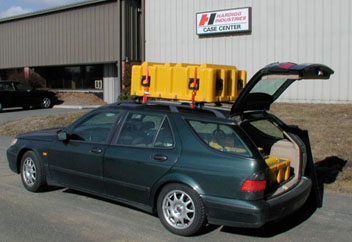 Mark Warren conveys "The customer who owned the yellow case on the roof of the Saab was the USGS in Storrs, CT. Hardigg had made a slight error in building the foam cushion because the dimensions provided by Edgetech didn't include the tow bridle...so we picked up the case and the customer's Edgetech 216S towfish and brought them to Hardigg so they could see the actual piece going into the case and rework the foam."