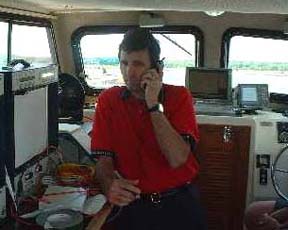 Mark Warren at work in the field...
About ESNE...
ESNE is currently the largest and longest continuously run manufacturers' representative firm in the Northeast serving the oceanographic community. For over 51 years it has provided professional, personalized service to it's customers and has aligned itself with the top rung of oceanographic manufacturers to bring first class products to it's customer base.
---
ESNE prides itself on its highly skilled and knowledgeable sales staff. Depending upon the area in which your business resides, you will be working one of the following individuals:
Mark Warren:

Mark Warren was essentially raised on the oceanographic industry. His father, Bob Warren, founded ESNE in 1967, and happily brought his son on board as a full time employee in 1977 after Mark's graduation from Connecticut College in New London, Connecticut. Mark eventually went on to purchase the company from his father, and is still the owner and operator of ESNE. With over 38 years personally invested in the company, Mark is a well known and well respected member of the oceanographic community.
Mark's territory includes:
Connecticut, New York, New Jersey, Pennsylvania, Vermont, Western Massachusetts
Click here to contact Mark...]
---
Electronic Sales of New England, ESNE, was formed by Bob Warren in 1967 and for the first 4 years he sold power amplifiers, power supplies and test equipment to the Navy, Raytheon, NUWC, other military subcontractors and the industrial market. He was hired by Hydro Products in 1970 because of his industry contacts, and was asked to promote their oceanographic products to the Navy, Woods Hole Oceanographic, and government agencies. Throughout the 1970's, more oceanographic equipment manufacturers began to look to ESNE to promote their products, until the mix of principals was 70/30, with oceanographics becoming the mainstay of the business.
Mark Warren joined his father in Feb. of 1977, at which time they split the territory such that Bob covered Maine, New Hampshire, Eastern Massachusetts, and Rhode Island; while Mark covered Connecticut, Western Massachusetts and Vermont. Mark gradually expanded the territory to include New York and New Jersey, and eventually Pennsylvania. Mark bought out his father's interest in January of 1983 and hired Tom Reynolds from Endeco to cover the eastern portion of New England. Tom was with ESNE until his tragic death in 1997, and played a critical role in expanding ESNE's customer base during his 14 years with the firm.
Paul Igo joined ESNE in July of 1997 to take over Tom's eastern New England territory. ESNE parted ways with Paul in Nov. of 2008. Mark is covering the Eastern part of New England now and so please refer all inquiries to Mark.